Zen in Golf Mental Training Program to Florida
You can start the course with a personalized lesson with me for 90 minutes and get the ONLINE course for 21 days; with which you will create a Habit to do it with a good technique in your swing … Contact me
The Zen in Golf Plan is a mental training program for golfers who desire to make a change in their game, play at a higher level, and in turn, achieve mental peace in every aspect of personal and professional life. This program is a completely different concept and approach than the typical golf lesson.
My name is Ivan Mayor and I have been a professional golf instructor for the past 15 years, am a 6th degree Shotokan Black Belt and Zen Master. I am the founder of the Antioquia Karate League, Co-founder of the National Columbian Karate Federation and founder of the World Organization Zen Movement. I have led Pan-American Karate Tournaments and have trained World Karate Champions.  
With the Zen in Golf Mental Training Program, participants will learn to integrate the mind, body and golf club, gain control of emotions and physical abilities, increase the power of the Inner Energy Ki, which feeds the Mind and the Body in control of the Golf Club and Swing Movement. The objective of the Zen in Golf Mental Training Program is to develop peace, which allows inner calm, which allows one to have mental control, which translates to control of Swing Movement. With Inner Peace you gain Control, with Control you gain Confidence, with Confidence you gain control over your body Movement, your club and your score!
The Zen 21 Plan has been designed specifically for PGA High Competition Professionals, Active Professionals, Pro Instructors, Pro Applicants, Single-digit Amateurs, and Golfers who wish to obtain an improvement in their game.
The first step of the Zen in Golf Plan is to show a two-hour presentation at no cost to attendees, interested parties and Club members.  During the presentation in your club, I will show the benefits that participants will obtain both in Mental control and in change of Habits, that will lead you on the path of mental Peace, which will allow you to enjoy every moment of your daily activities and of course in the game of Golf.
The presentation places the attendees inside themselves … within their interior.  It includes Meditation in Zazen (sitting) and in Shi Zen Tai in movement with a golf club, also a clear explanation of what Zen is and how it relates to results in your round of golf.

I am implementing my program throughout the USA and will be in the Florida area from October through the end of April 2019.  I propose to you that we implement the Zen 21 Plan, in your Club. It is an elite 21 week program where all participants will enjoy the combination of Mind and Golf. Upon waking and before going to bed, participants will do Ki Breathing and Zen Meditation in their homes, along with Zen Mental Training in Golf, in the different areas of Putting, Chipping, Approach, Iron, Woods and Driver. The training sessions can be viewed on the TV, PC, IPad and mobile Phone.
I will be with everyone in each of the Mental Training OnLine with Zen in Movement sessions throughout the 21 Days, through the internet.
Each of the enrolled participants will also have a general training form, which they must follow and report their results Online to the address of the Plan, as they progress through the program.
Zen in Golf Plan Description:
Week 1-  Condition the Mind and Body through Ki  breathing
-Explanation and exploration of Zen in Movement
-Contact with the Putter, controlling the Moment in order to control your swing
Week 2-  We will learn to Meditate with Zen, using correctly the ZaZen and Shi Zen Tai breathing and posture
-More information about what Zen is and to understand what the Zen MOMENT is
Week 3-   We will expand the Concentration of the Moment, more Zen Meditation in Golf, and we will be ready to start the Zen Plan in Golf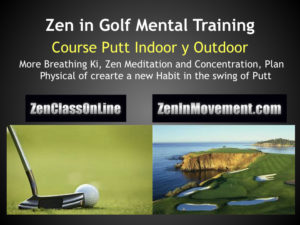 -Contact with the Approach in order to develop the beginning understanding of our back and down swing
Week 4 to 7-  Zen Golf Training using Ki Breathing, Zen Meditation in Movement and the Physical Techniques of the Golf swing.
-We will have contact with the whole concept of starting and ending a swing, from the most basic swing form, to unite and control it with our Mind in Movement
-knowledge of new mental control aspects learned are now applied to all areas of the golf game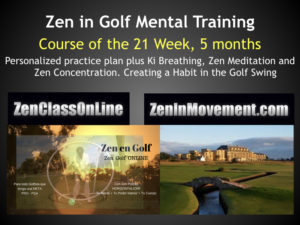 -The course is available for groups and individuals
–The cost of the course is $199 per person for group sessions; more 21 Day program on-line training.
– PRIVATE Course OnLine or Presential for a person or a small group of golfers; more 21 Day program OnLine training.
-This program benefits your Club by offering a new course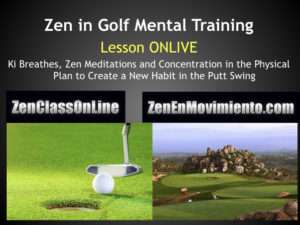 and opportunity for your members to improve their game of golf and life itself through Zen
-In addition, your Club can register all current employed golf instructors for free, as this is a mental program that will help the student to implement the golf coach's instructions
Note: The Course is in English and Spanish
I thank you for your time, if you are interested in my program or have questions, please contact me.
Ivan Mayor
Zen Master and Professional Instructor in Golf
ivanmayor@gmail.com      www.zeninmovement.com     Resume Zen Master Ivan Mayor
Link PortFolio  Portfolio of presentation en Vimeo click on the Link